Orthopaedics
Our service offers diagnosis and treatment of musculoskeletal disorders.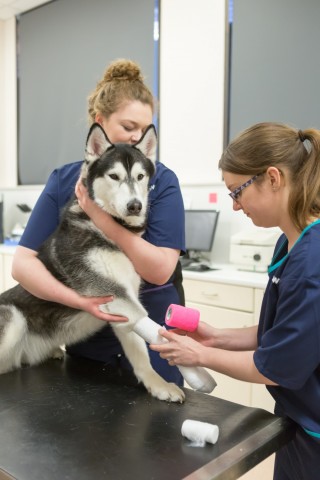 Information about our orthopaedics service
Veterinary orthopaedics is concerned with conditions involving the musculoskeletal system, or in basic terms, injuries to the bone.
Clients have an initial 45-60 minute consultation with our orthopaedic referral clinician. During this time they will fully examine the patient and discuss with the pet owner any concerns they may have and any treatment or diagnosis from the referring practice.
Following the consultation, a diagnosis and treatment plan will be discussed with the client, including the potential costs and outcomes.
Assuming this is agreed, the pet owner will be asked to leave their pet in our care for treatment or surgery.
Typical cases that are referred to our orthopaedics department include:
Fractures
Hip dysplasia
Arthritic dogs and cats
If you'd like to know more about this service, contact our Glasgow hospital or refer a case using this form.