Warning for pet owners as bulldog almost dies from heat stroke

Vets say Blossom's heat stroke case highlights the dangers of soaring summer temperatures
A LARGER than life bulldog called Blossom suffered severe heat stroke while playing outside in the late afternoon.
Heat stroke in dogs often occurs when a pet has been left in a car on a hot day or locked indoors without proper ventilation.
But Blossom came down with it just before tea time on what had been an unseasonably warm but by no means scorching day.
Emergency vets at Vets Now say the case highlights the dangers faced by dogs in the summer months.
They are pleading with owners to educate themselves on the signs of heat stroke and what to do in the event of their pet overheating.
The calls come in the wake of a warning that flat-faced — or brachycephalic — breeds are at greater risk of heat stroke because their short noses make it harder for them to breathe.
Signs of heat stroke and how to prevent it
Blossom was playing chase with a Labrador when she suffered heat stroke. Struggling to breathe, she collapsed and her tongue began to turn darker.
Owner Emma Darlington thought Blossom had suffered a coronary seizure and rushed her to Vets Now in Salisbury.
Blossom's body temperature was dangerously high at nearly 42C (108F) when she was admitted.
Principal vet Michael Maguire sedated Blossom, gave her a cold water enema, and kept her temperature under close observation all night.
Gradually, Blossom's temperature began to return to normal, and by the next morning, she was well enough to go home.
The temperature on the day Blossom collapsed peaked at around 23C and was dropping rapidly when she was taken for a stroll.
But Blossom, who is six years old, still ended up badly unwell.
Emma, 41, from Salisbury, Wiltshire, said: "Blossom was having a ball chasing a black Labrador who belongs to a friend of my son's.
"She was having a great time and I think she's just over-cooked herself.
"It was a warm day but it was by no means the heat of the midday sun.
"She was panting and gasping for breath. Then her tongue turned blue and started going darker and darker.
"It was an extremely scary situation to witness. I genuinely thought she had suffered a coronary."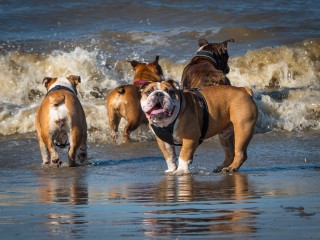 Where's my nearest pet emergency clinic?
Emma said owning a bulldog has been a "real learning curve" for her.
She added: "The thing about bulldogs is they have limited respiratory ability because their faces are so flat.
"So, when they are running around, it's not like a normal dog who will just breathe quicker and deeper. A bulldog can't really do that and that's the problem.
"She's a big dog too. She's not overweight — but there is a lot of her.
"The guys at Vets Now were brilliant with her — and very professional. They did a terrific job.
"She was back to her normal self in just a few days."
Emergency vet Michael, who treated Blossom, said Emma did the right thing by rushing her to the vet when she began suffering from heat stroke.
He said: "We see a lot of cases like this when temperatures rise and some end in tragic circumstances.
"I'd urge all pet owners to educate themselves on the dangers of heat stroke and hyperthermia.
"This is particularly the case for owners of brachycephalic breeds, dogs that are obese or suffering from conditions that affect the upper airway."
He added: "In Blossom's case we managed to gradually reduce her temperature while keeping a close eye on her bloods.
"Thankfully there were no signs of lasting or serious damage and she went on to make a full recovery."
Owners who suspect their dog is suffering heat stroke should telephone their vet immediately or, out of hours, their nearest Vets Now pet emergency clinic.
Vets Now is open through the night, seven-days-a-week, and day and night on weekends and bank holidays, to treat any pet emergencies that may occur. All of our out-of-hours clinics and 24/7 hospitals have a vet and vet nurse on site at all times.