Emma Toffanin, Principal Vet at our Witham clinic, has lived and worked in the UK for seven years. But the work-life balance offered by Vets Now has allowed her to work in the UK and still spend her off weeks at home in Italy. Below she discusses hand-rearing bats, why British food doesn't live up to its reputation, and how the flexibility she's found at Vets Now actually lets her enjoy her trips home again.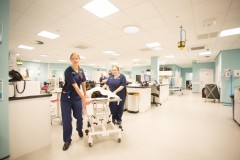 When did you know you wanted to be a vet?
I actually wanted to be a marine biologist when I was very young. But once I got a little older, I decided I wanted to be a vet because you could have more of an impact treating that one single animal than working on a wider scale within a larger environment.
I went to veterinary school in Padova, in northern Italy, and the university I went to UMI, had a scholarship that let you spend four or five months working in a wildlife rescue centre in Scotland. And I met other new grads working there that were from the UK, and I started to learn about the differences of veterinary medicine in the UK. There was a lot more wildlife medicine here, which I love. So I did my board exam in Italy, and then moved to the UK immediately after. I've been working in the UK for the past seven years now.
I know we're supposed to be talking about working in the UK, but I have to ask – what were your favourite wild animals to work with?
We saw a little bit of everything, but I particularly loved corvids. We had loads of magpies and jackdaws and they were just so clever, which I wasn't expecting. They were very cheeky and each one had a very well-defined personality. If I was hand-feeding baby chicks and they were sitting in front of me in a line and I skipped one, that one would jump up on my shoulder and stare at me and start calling for food.
We also had loads of bats that we were hand-rearing and they were the same: you had the screamer, the biter, the really sweet and calm one. All different personalities. It's obvious to us that our dogs and cats have different personalities, but I didn't expect it in the wild animals.
So how did you go from that to working in ECC?
I started working for a first opinion practice in Kent, where we did see a lot of wildlife and zoo animals as well. We covered our own out-of-hours in the practice, so that was where I first found I had a passion for ECC. But it was really hard on me to be working during the day and then on call at night, or on call over the weekend and then back to work on Monday. I felt like I never really had time to switch off and within a couple years I was just very tired.
Then at the London Vet Show I saw the Vets Now stand and I thought, this could be a really good way of getting some time off and still being able to do what I like. I started out by doing the Cutting EDGE programme, and then joined Vets Now from there.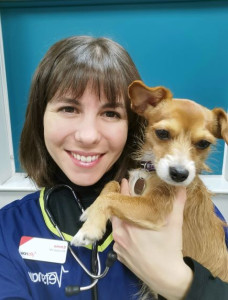 What do you enjoy the most about ECC cases?
The variety is a great perk of ECC. You get to do a little bit of internal medicine, a little bit of surgery, a little bit of neurology. And I love the faster pace, and the fact that you work with a smaller team. You get really close with your teammates.
In terms of work-life balance, the flexibility is great. I like having the days to myself. I don't really need to sleep much, I never have. So I love that I can work and still have loads of time to myself for other things; reading, cooking, yoga, hiking, I can do everything. I don't have to sacrifice.
And how did you manage the transition to your current schedule, where you're spending more time in Italy?
Well, I work in the Witham clinic, which is close to Stansted so that's quite handy. And at least in my clinic, the team is very international – I'm Italian, and then there's two Spanish vets and another Italian vet. And that's not unusual, in the sense that the profession is quite European, and quite international, so there's the need for many of us to have a longer stretch of days off so people can visit family. So when I started at Witham, the rota was already set to accommodate that.
So do you have longer stretches of work so that you can have longer stretches of holiday?
In general, but even then there is some flexibility. For example, I don't tend to do more than three nights in a row as I find on the last night I am quite tired, while other vets are more than happy to do three and four nights in a row just because they would rather stay on that pattern once they shift their sleep schedule to work overnight.
But that's something we've always worked out between ourselves within the clinic. We have a chat at the beginning of the financial year, work out everyone's preferences – who wants longer stretches of off days, who wants Mondays off, that sort of thing – and then try to find compromises that work for everyone. And so far it has worked really well.
Would you say the UK and Italy both feel like home now?
Yes, though of course it depends. In December the clinics are busy, so I'm spending more time in the UK working. But over the summer I feel that my home is more in Italy, so it depends.
What surprised you about working in the UK?
I mean, in Italy the wages are very low. I wouldn't be able to live on my own in Italy, I would be living with my family, and I feel I'm a little bit too old for that!
Also vets in the UK stick together as a profession, in general, whereas in Italy everyone is looking after their own little clinic. Here you are part of the larger group, and there's discussion and exchange of ideas within the profession. Not in every situation, and you don't always agree with each other, of course. But as vets you are a team and you work together for your patients, whereas in Italy due to the economic situation it is very different. There is more competition and that affects the relationships. You're working more for yourself and your own clinic.
How have you found Vets Now?
In Vets Now in particular, I find there's a very open culture. There's not a culture of blame, it's very much feeling supported and knowing people will have your back even if you make a mistake in good faith.
Do you like spending time in the UK?
Personally I find the UK a beautiful country; you have the countryside, mountains, forest and they're all just beautiful.
Sometimes Italian or other Southern European people, we like to say that we're more friendly and affectionate. But I don't know, I don't see the difference and I think people are lovely both here and there. And I think the UK is very open and non-judgemental; if you want to go out with purple hair or something, people will think it's cool. Whereas sometimes in Europe, people feel entitled to tell you how you should live, that you shouldn't be doing something.
And the UK is a very multicultural country. Even the food! You can find any sort of food or restaurant here, and I love that.
I don't want to resort to lazy generalisations, but it's a little surprising to hear someone from Italy praising Britain for the food.
Well, I like the variety – I didn't necessarily say anything about British food.
Fair enough. It must be nice to be able to see friends and family in Italy so much.
Yes, definitely. I've got my pets at home in Italy – two dogs and two cats, and they're always really happy to see me. And when I was in day practice, I used to only go home a couple times a year, and it was lovely to see family and friends, but because it was so rare, everyone wanted to see me and so rather than a holiday it was just a full diary.
Oh, I know how it goes – I'm from the US, and yes, trips home are not relaxing at all.
Exactly – I mean, it's wonderful, but it's so exhausting that I was almost stressed at the idea of going home rather than excited.
Whereas now, if I don't get to see everyone each time I go home, it's fine. I'll see them next time I'm back, in a few weeks. It took away the element of stress.
And even if you can't swap shifts in your own clinic to get a longer break, you can look at clinics within your district, if you really need to. Obviously, you need to be prepared to put in the work, pick up that extra night somewhere that's not your favourite clinic, but it's all about your priorities.
Anything else you would mention to vets thinking about working in the UK?
The weather is really not that bad. This year, we had a summer!