Ana Vazquez Couto, Veterinary Surgeon at our Chippenham clinic, has lived and worked in the UK for seven years. But the flexibility offered by Vets Now has allowed her to work in the UK and still spend a few weeks out of every month at home in Spain. Below she discusses why working for Vets Now in the UK allows her to get the best of both worlds.
Are there differences in how emergency medicine is practiced between Spain and the UK?
In terms of ECC specifically, often in Spain it is new graduates who do emergency care because it doesn't pay very well. And it's not like daytime practice where, for example, a patient is presenting with a skin condition and you can run tests, research possibilities, consult with your colleagues the next day. If you have a cat that's been hit by a car there's no time for any of that, the patient is in front of you. As a new graduate, when you don't have confidence and experience to rely on, that can be terrifying.
Another difference is that Spain does not have the profession of vet nursing. It's amazing that here you have another person to help and lend their experience and give their opinion on cases. Since nursing is a true profession, all the nurses are very qualified in their field. In the clinic, it's so helpful to have a supportive staff around you.
How does the compensation in the UK compare to Spain?
Wages are much higher for vets in the UK. It's very extreme, really – I've seen advertisements for recruiting vets in Spain, asking for vets with years of experience, and the wages they're offering are less than half of the roles at Vets Now. The salary with Vets Now is more than three times higher for the same type of work in Spain. When you take into account the holidays and other benefits, it turns out being probably four times more.
Also, working in ECC you are able to be compensated for overtime. In daytime you're often doing calls or writing up results, or an emergency could come in at the end of the day, so you're often working quite late. We rarely have that in ECC. And if there is a case late in the shift and you do go overtime, at Vets Now you can claim that and be compensated, whereas in daytime practice it is generally part of the job.
Can you talk more about some of the other benefits?
In Spain, if you want to continue to progress, of course you need CPD courses, but you usually have to cover the cost of those yourself, and they are not cheap. But Vets Now is very supportive of learning and development for their staff, so the fact that an employer will cover these courses also helps financially. They are also very helpful about giving you time to study for certificates and prep for exams, and there's a wide range of available CPD course options.
Vets Now also have programmes like Cutting Edge, which are very helpful for gaining confidence in your skills before going right into the ECC environment.
Even with all the work advantages, though, on a personal level it can still be hard adapting to another count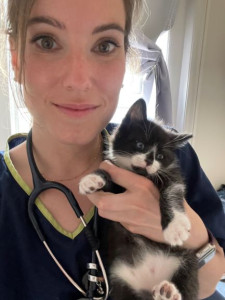 ry.
The UK is great and it gives you a lot of lot of opportunities, but obviously you do miss home and sometimes you do want to be close to your family and friends. At least in the places I have lived in the UK, I mostly met people through work or study that were in the same sorts of environments, and then those people would move on due to other work opportunities and leave the area. After a year or two you would have to make friends all over again, which could get tiring. I wanted to be able to find a schedule where I could spend more time in Spain.
How does your schedule work now?
For the last few years during covid, travel was of course limited and the clinics were very busy, so during lockdown I was working a lot. But now my current rota is two weeks on, two weeks off, one week on and three weeks off. And then I do have holidays on top of that as well. Until recently, I was working on my certificate, and my learning agreement with Vets Now also gave me study time. All the flexibility has allowed me to spend a lot of time at home.
So you really get the best of both worlds, with the work environment of the UK but the lifestyle of being with friends and family in Spain.
Yes, and in some ways, it even gives you more quality time because when you're back in Spain, you're truly off of work and can enjoy yourself and be present for the people around you. If you were working at a daytime practice in Spain, where you're busy from 10 in the morning until 9 at night – and then on call, working Saturdays, not being able to take as many holidays – it's very hard to disconnect.
Usually there's a trade-off between having more money and having more time, but working in the UK and living in Spain has really allowed me to enjoy the financial advantages of higher wages while still having great work-life balance.
Do you find working out-of-hours difficult?
Having the alternating weeks on and off makes it worth it, for me. It is hard when you have several nights of shifts in a row, but I prefer it to a few nights here and there in the week that are broken up with days off, because then you're always switching your schedule. It takes a couple days to fully recover after several night shifts, so by working more nights in a row I get that longer period of rest.
So what would you say to vets in other countries who might be considering working in the UK?
I mean, you see a job posted in the UK, and it sounds great in terms of the package, but of course it's a new country, it's something totally, totally different. And not everyone will want to move over and completely change their lives to do that, it very much depends on each person's circumstances. And I have lived in the UK full-time when I was younger without any support, and it was very hard, though I learned a lot. But for me I now feel like I've been very lucky to be able to find the right balance, living in Spain and working in the UK.