Hello
Are you worried about your Pet? We're here to help…
Dog says 'diolch' to Vets Now after daffodil scare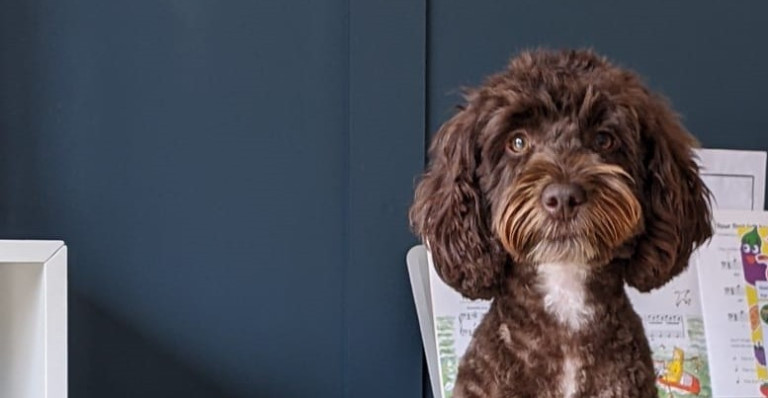 An adorable dog called Agatha nearly poisoned herself when she munched through a bunch of daffodils she pinched from a vase.
Full-of-fun Agatha thought the spring flowers were a tasty treat left out for her on the dining table by owner Lynsey Harris.
Agatha – a cross between a springer spaniel and a poodle – cleverly used a chair as a springboard to jump up to the table, which otherwise would have been out of her reach.
But what Agatha didn't realise is that daffodils are potentially fatal for dogs because they contain several toxic chemicals which can cause severe vomiting and diarrhoea, as well as problems with the heart and circulation.
And Lynsey was equally unaware that the humble and innocent-looking daffodil, national flower of Wales, can be so harmful.
Lynsey said: "I was on the phone to a friend and said, 'You'll never guess what Agatha's done now. She's eaten the daffodils off the table!'
"It was my friend who told to me that daffodils are actually toxic to dogs, which came as a total surprise.
"When we first got Agatha I read up on all sorts of risks to dog health but the danger to your pet from a bunch of daffodils never cropped up."
And as if to prove the point, two-year-old Agatha then started being violently sick just as Lynsey was calling Vets Now for advice.
A few moments later, Lynsey and a poorly Agatha were on their way to our 24 hour pet emergency clinic in Newport, South Wales, where they live.
Our team checked Agatha over and established that because she had been sick already she was at less risk of absorbing enough of the toxin from the daffodils, and therefore was likely to avoid any serious threat to her vital organs.
Soon Agatha was well enough to go back home with some doses of liquid charcoal for Lynsey to squirt into her throat to prevent further absorption of anything left in her tummy.
And after a day or so, she was back to her normal self – charging around the house and prowling the garden.
Lynsey said: "It was a massive relief to get Agatha home safe and sound.
"Just two days after bringing Agatha home from the breeder a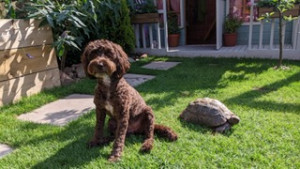 s a tiny puppy she nearly died from a worm infestation and had to have 14cm of intestines removed.
"It was really life and death for her and it was Vets Now who looked after her then.
"Having been through that scary experience, I was fearing for the worst when this happened."
Now, with both Mother's Day and St David's Day approaching in March, Lynsey is keen for other owners to be aware about the damage that even one or two daffodils can do to a dog.
She said: "I've learned my lesson here – and hopefully this will raise awareness for other owners of what a serious issue this is.
"But I don't think Agatha has learned her lesson. She'd probably do it again if she got the chance – which she won't because I'm keeping flowers well out of her reach!
"She is quite stubborn and always eating something she shouldn't!
"Recently we were back at Vets Now for a third time after she ate some playsand from the garden and I really am hoping that's the last time we need to go.
"We've had excellent care each time – but enough is enough!""
Iwona Szmycl from our Newport clinic who led Agatha's treatment said: "We've got to know Agatha very well – she's such a funny character.
"Daffodils look so innocent but they can be toxic for dogs and with St David's Day and Mother's Day coming up it's worth everyone bearing that in mind.
"And if your dog does manage to eat daffodils, please do what Lynsey did and seek vet help straightaway."