Hello
Are you worried about your Pet? We're here to help…
Canine brothers' chocolate binge led to Valentine's vet visit

A pair of hungry cockapoos didn't feel the love last Valentine's Day after a chocolate-scoffing spree almost spelled disaster.
On the eve of the most loved-up day of the year, brothers Jarvis and Dodger got their paws on a large tub of dark chocolate. It can prove highly toxic and owner Lesley Kelly, from Houston, Renfrewshire, had to rush the duo for urgent treatment at the Vets Now hospital in Glasgow.
Now Lesley is backing vets' calls for owners to keep chocolates given as presents away from their pets.
The drama happened when Dodger, now three, and Jarvis, who was just nine months at the time, decided to have an early morning feast.
"The pair of them sleep in the utility room and there was a glass jar of chocolate buttons out of reach up on the worktop," said Lesley.
"But it was sitting on my husband's newspaper and Jarvis must have got up, pulled the paper and the jar fell the floor.
"I came straight down when I heard it smash and, although they luckily hadn't cut their paws on the broken glass, I could see they'd been helping themselves to the chocolate.
"I didn't know who had eaten what, but it was quite a big jar and they'd probably shared about 200g of chocolate. If I hadn't heard it could have been twice that, but it was 70% cocoa and I knew that was bad and we needed help right away.
"Jarvis was just a tiny pup, and we were really concerned."
It was very early on a Sunday morning and Lesley called the Vets Now Hospital in Glasgow city centre. It's one of more than 60 clinics and hospitals across the UK that are open seven days a week for out-of-hours pet emergencies.
She was told to get the pair in as quickly as possible for treatment.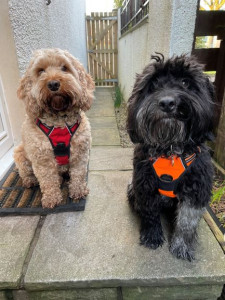 After the treatment and assessment, Lesley was able to take Dodger and Jarvis home later that day.
She was given active charcoal to continue their treatment.
"Dodger was a bit sorry for himself, but Jarvis was jumping up and down and looking as if nothing had happened," said Lesley.
"But it was really scary, and we'd definitely urge people to be extra careful with any chocolate."