Hello
Are you worried about your Pet? We're here to help…
15 dangers to be aware of before taking your dog to the beach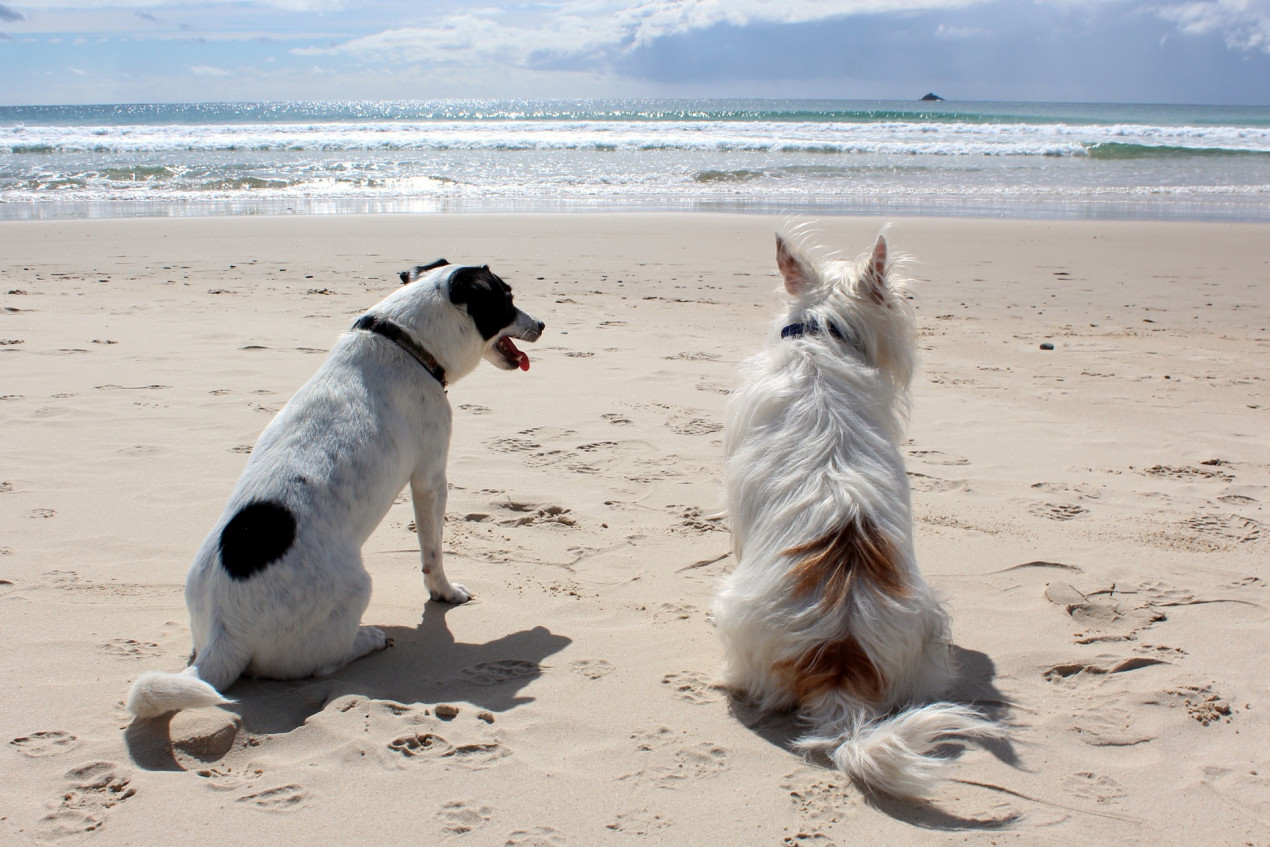 Beach safety advice for your dog
Everyone loves to be beside the seaside — particularly with our dogs. If you're lucky enough to live by the sea or are planning a trip to the beach with your dog, be aware of these dangers beforehand.
1. Sand impaction
Believe it or not, some dogs have been known to eat sand when they visit the beach. Most, however, ingest it by accident through digging or repeatedly picking up sandy balls and toys. If a dog swallows enough sand it can cause a blockage in the intestine, which is called sand impaction. Signs of this serious condition, which requires urgent veterinary treatment, include vomiting, dehydration and abdominal pain.
2. Swimming in the sea
Don't assume your dog can swim. All dogs have to learn just like us. Some breeds are naturally strong swimmers, but other breeds, such as corgis and pugs, are not. If your dog is not used to swimming then the sea is not the place to start so make sure he doesn't get out of his depth.
3. Dead fish
Don't let your dog eat dead fish that have been washed up on the beach. These may contain potentially deadly toxins. In one rare but heartbreaking case, a dog died after picking up and eating bits of washed-up fish and starfish on a beach in north Norfolk.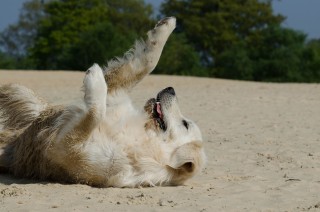 4. Strong tides and rolling waves
Even if your dog is a strong swimmer, they're still at risk of being swept under by large rolling waves. Be careful on windy days when the waves are high and make sure your dog doesn't venture too far out. Waves and currents can quickly exhaust dogs so perhaps consider buying a life vest for your dog.
5. Salt poisoning
If you notice your dog lapping up sea water — stop them. The salt, bacteria and parasites in the water can make them sick. To prevent your dog from drinking salt water, make sure you have plenty of fresh water on hand to give them throughout the day. Irritation to your dog's skin and paws can be prevented by a fresh-water rinse down before leaving the beach.
6. Fishing hooks
If you're visiting a beach that's popular for fishing watch out for discarded fish hooks. Dogs are often tempted to swallow the shiny lure and tasty bait that's attached to them. But these can cause nasty injuries if embedded in their mouth, food pipe or stomach. Dogs can also suffer paw injuries from standing on fish hooks.
7. Foreign objects
There are always temptations on the beach from other people's picnics, discarded rubbish, beach toys and shells. It is important to ensure your pet doesn't eat anything they shouldn't when so many temptations are around.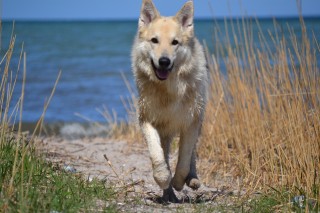 8. Jellyfish
It's no secret that our furry friends like to explore. However, it's important to keep a close eye on your dog if there's likely to be jellyfish. Often lurking in shallow water or washed up on the beach, these troublesome sea creatures can cause a very nasty sting.
9. Overexertion
Keep in mind that running on sand takes a lot more effort than running on grass. Overexertion, particularly in the summer sun, can quickly lead to potentially fatal heat stroke so beware.
10. Mudflats and low tides
On some beaches, mudflats and small islands are exposed at low tide. These can be very dangerous for people and dogs alike and should be avoided. If you're visiting a beach with a high tidal range never attempt to reach the water at low tide and always check the tide times before you go.
11. Palm oil
Palm oil often washed up on the shoreline and can cause severe vomiting and diarrhoea when swallowed. This may lead to dehydration and possibly even pancreatitis.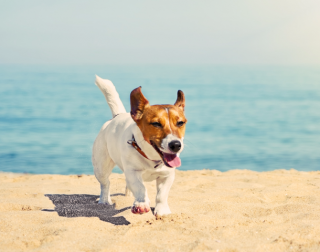 13. Dangerous temperatures
Don't be fooled by the cool coastal breeze, temperatures on beaches often soar in the height of summer, even in the UK. Whether it be under a parasol or a picnic table, be sure to provide a shaded area for your dog and give them plenty of fresh water to help avoid heatstroke.
14. Walking on hot sand
Even in the UK, the sun can heat up the sand to dangerous temperatures. If it's too hot for you to walk barefoot, then it's too hot for your dog's paws. If you're planning on visiting the beach on a day that's forecast to be hot, it's a good idea to take her in the early morning or late evening.
15. Sunburn
Just like humans, dogs can suffer sunburn. Breeds with short hair or white hair, and pink ears must be particularly careful on hot days. Use a sunscreen made specifically for dogs and avoid those that contain fragrances.