Hello
Are you worried about your Pet? We're here to help…
Vets Now Video Vet: Everything you need to know about Vets Now's online vet advice service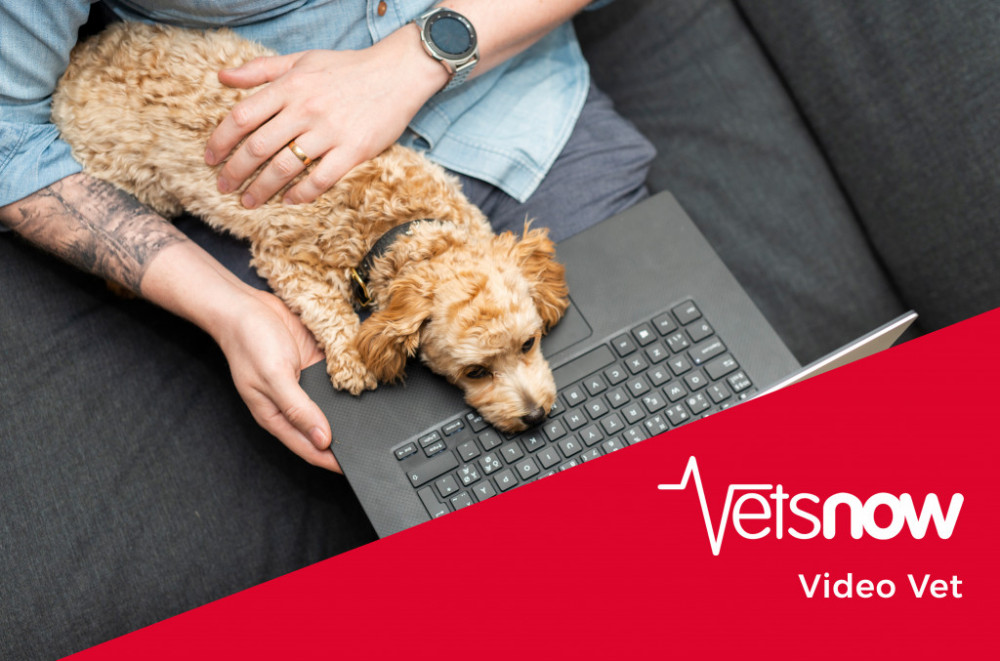 Video vet lets you speak with a vet from the comfort of your home
Most pet owners are familiar with this worrying scenario — your pet doesn't seem quite right but you're not sure if it's serious enough to warrant an urgent dash to the vet.
Our pets can't tell us when something is wrong so it's not uncommon to spend sleepless nights watching over them wishing we had someone to advise us.
At Vets Now, we have a solution to this age-old problem — an online vet service where you can talk to one of our experienced emergency vets via video chat from the comfort of your home.
Here, we answer all the questions you might have about using our online vet service.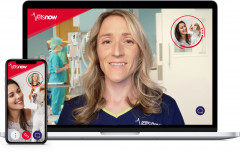 Online vet advice
---
Video vet lets you speak to one of our experienced emergency vets via video chat, from the comfort of your home.
Learn more
How do I book an online vet advice consultation?
To book an online video consultation click the 'book now' button and choose a convenient time slot from the list of available consultations. Fill in a short form about your pet and use a credit or debit card to pay the £24 consultation fee. Once you've booked your consultation, you will receive an email with a link which you should click on at your appointment time. Our vet will join the online meeting at the same time to begin the consultation.
What happens in an online video vet consultation?
During an online vet consultation, you explain your pet's symptoms to the vet, and they examine them by looking and listening to their symptoms on the screen. They will advise you on how to hold your pet to get the best view of the problem. The vet will either offer advice on caring for your pet at home or, if it's an emergency, they will help you arrange treatment. We will email you the notes from your consultation so you can show the vet who will treat your pet.
How long will I have to wait for an appointment?
Click 'book now' to see the next available consultation and all other possible time slots available. We offer appointments between 8am and 11pm every day, so you shouldn't have to wait very long.
How much does an online vet advice appointment cost and how do I pay?
A 10-minute consultation costs just £24 which you can pay online using a credit or debit card. Just choose a suitable time for your appointment, and you will be directed to our payment form. If your pet needs to be seen at one of our clinics, we'll refund this £24 back to you.
Will I speak to a real vet?
Yes, all our online video vets are experienced emergency vets who have worked in our pet emergency clinics across the UK.
How long does a an online vet consultation take?
Our online vet consultations are 10 minutes long. If your pet has multiple problems to discuss, or the issue is complicated then you may need to book more than one appointment, or consider whether the video vet consult is appropriate for your needs.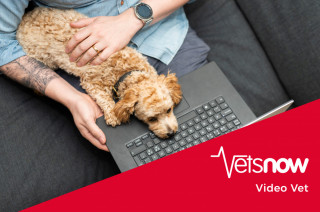 What sort of problem can I see the video vet about?
Our online vet consultations are most suited to problems that occur suddenly, but our experienced vets are available to discuss any health conditions your pet might have. If your pet has a chronic ongoing problem then this may be too complex for a video vet consultation and you would be better off arranging an in-person consultation with a daytime vet practice.
Serious life-threatening problems, or those that might deteriorate rapidly, are also not suitable for a video vet consultation and you should seek an urgent in-person consultation by contacting your daytime vet or nearest Vets Now pet emergency clinic immediately.
You can find a list of some of the most serious life-threatening emergencies here but, in essence, if your pet is ill or injured and you feel their care cannot wait because they're in discomfort, distressed or likely to deteriorate further, you should make an appointment with a vet immediately.
Can I bring more than one pet to the Video Vet consultation?
The video vet consultation is for one pet only, so if you have two pets that need attention you should book a separate appointment for each one.
What species does the video vet treat?
Our experienced vets are able to examine all small companion animals, whatever your pet might be. However, they are unable to examine horses or livestock.
I live outside the UK, can I use the video vet service?
Unfortunately, we are only able to offer the service to people residing in the UK at this time.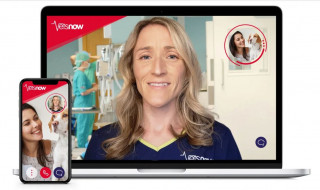 I am visiting the UK on holiday with my pet. Can I use the video vet service?
Yes, if you are visiting the UK on holiday you are welcome to use our service.
I already have a vet, can I still use Vets Now online video vet service?
Yes, our online vets are here to offer advice and peace of mind, but an online consultation is not a replacement for in-person treatment. If you call us during the day and your pet needs treatment, we will advise you to contact your daytime vet, or help you to find the nearest available veterinary practice.
Can I get a prescription through video vet?
Unfortunately, we are not normally able to prescribe medication online at this time.
What if my pet needs to see a vet in person?
During the day
You will be directed to your normal daytime vet if you have one.
If you aren't registered with a vet practice, our online vet will help you find a clinic near you.
Out-of-hours (when daytime vets are closed)
We will send you a copy of the notes from your online consultation to show the vet who will be treating your pet.
I have already seen the video vet but my pet has not improved or the symptoms have changed. What should I do?
In this situation, we would not recommend a repeat video vet consultation. If your pet continues to be unwell we would advise that you contact your daytime vet or, if it's out of hours such as at night or on the weekend, your nearest Vets Now pet emergency clinic to arrange an in-person consultation.
Find out more about video vet here.